Chancellor's Award
The University of Hyderabad instituted the Chancellor's Award in the year 2013 to recognize excellence in research and teaching contributions by the young faculty.
The awardees receive a grant of Rs.1 lakh over a period of two years for their research contribution, a citation and scroll.
The criteria for the Chancellor's Award are as follows:
Awardee shall be below the age of 45 years.
Research publications in the last 5 years, based on work primarily done at the University.
Research grant received during the last 5 years.
Teaching contributions and mentoring of students at all levels.
Contribution to the School/Department/Centre.
The selection of the awardees is made by the Committee of Experts from outside the University constituted by the Chancellor. The awards will be conferred upon the awardees at the University Convocation.
The Chancellor's Award was instituted in the academic year 2013-14 for faculty below the age of 45 years to recognise excellence in Research, Teaching and Contributions to University Life. This award carries a research grant of Rupees One Lakh given over a period of two years.
A Citation is conferred on the awardees by the Chancellor at the yearly Convocation held on 1st October. Every year an expert committee comprising of eminent academicians from outside the University is constituted to review the entries received and finalise the awardees.
The Awardees
2019
2018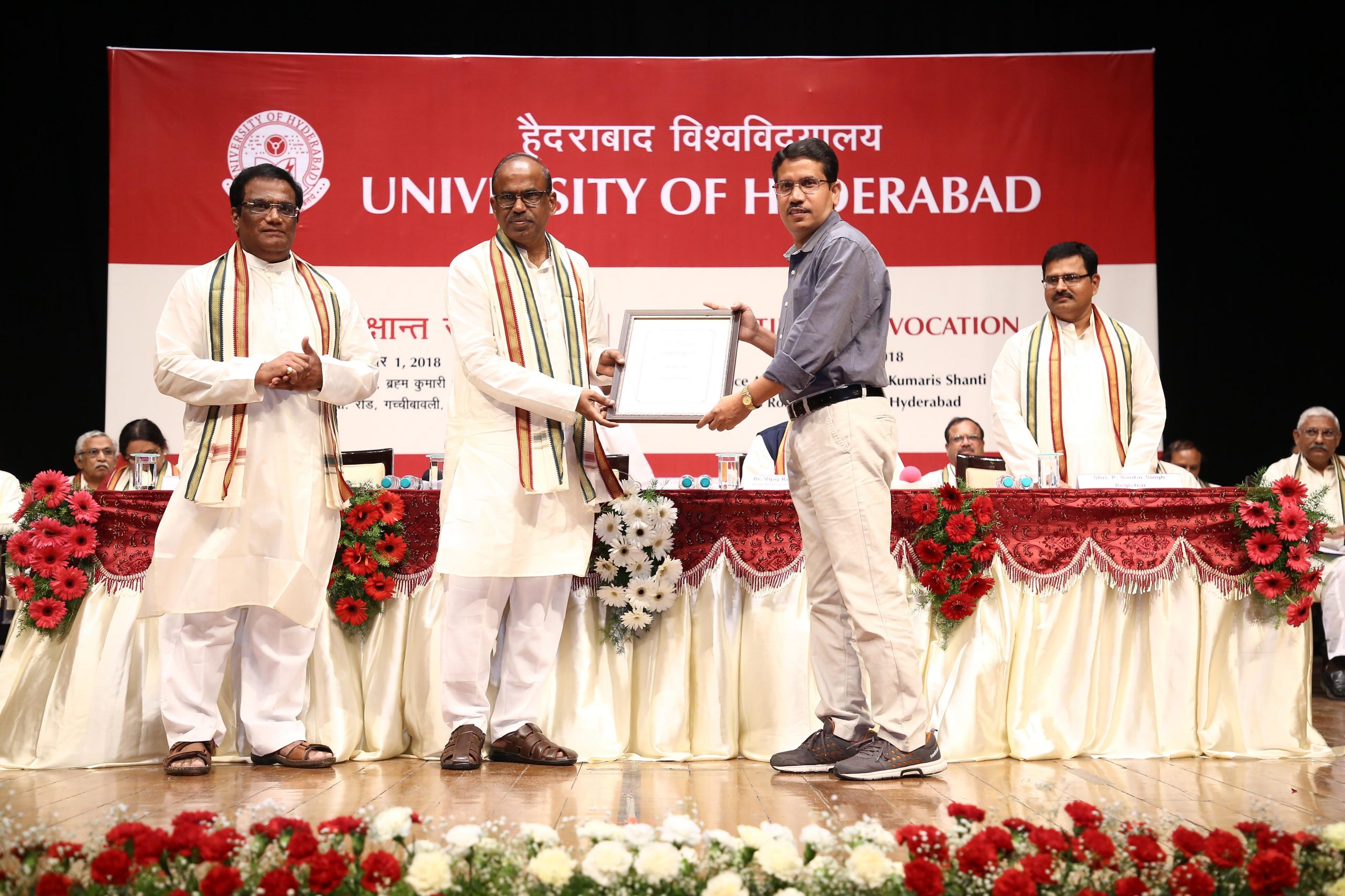 Alok Singh                    Gutti RaviKumar              Md Zahidul Haque          Nagaraju Gundimeda          Tushar Jana

2016
                                                        Alok Kumar Mishra      Darla Venkateswara Rao     Soma Venugopal Rao        Vadali V S S Srikanth        Yenugu Suresh
2015
2014
                                                           D B Ramachary                 G Vaitheeswaran          Mrinal Kanti Bhattacharyya   Subramanyam Rajagopal     Suvashisa Rana